Show Spoilers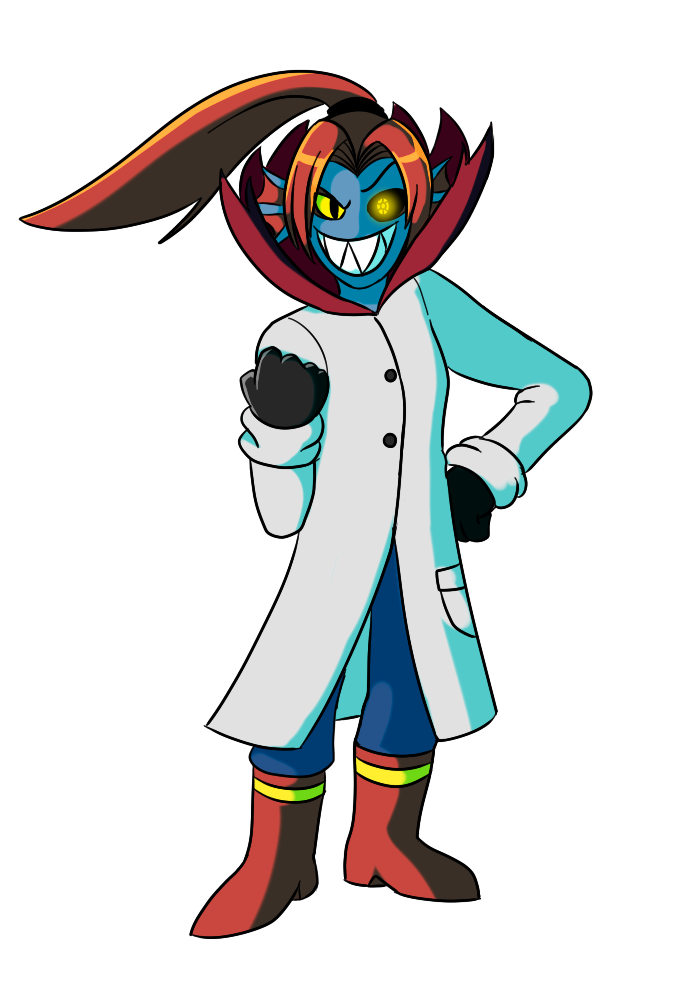 UNDYNE
Twenty-two years old.
The secondary antagonist and the biggest threat in Frisk's journey.
The royal scientist, Undyne plays the part of a mad genius, using science to live out her anime-driven fantasies and make monsters' dreams come true. Her specialties are robotics and weaponry.
Gained her position after singlehandedly building a holographic sky over Snowdin Town. Toriel was so impressed by this symbolic gesture that she immediately appointed Undyne to the position.
She pursued the sciences over the guard due to the Underground's greater emphasis on education. Thus, instead of ripping books as a child, she actually read that. Add that to the video games, anime, and manga that fell into the dump, and she became inspired to make mecha and cool laser swords… basically, she wanted to make anime real.
Growing up in Waterfall, she was raised with tales of the Waterfall Incident in addition to the war. This gave her a strong sense of justice and a somewhat negative view of humans, but it wasn't as severe before. After all, humans created anime, and anime is awesome!
Babysat Papyrus while Sans began guard training. She's known him since he was fairly young.
Made a promise three years ago that she would break the barrier with science and took Papyrus as her apprentice at that time. When the experiments grew out of control, she became desperate and hyper-focused on keeping her promise by taking the final human SOUL.
Was so infuriated when she uncovered the Dreemurr tapes that she broadcast to the whole kingdom. This led to Toriel's seclusion and her effectively becoming the acting leader in her absence, though she seldom asserts her full power.
Still respects Toriel despite their clashing views and doesn't want her to have to take another life.
Still extremely determined. Perhaps even more so than before.
Always wears black gloves and long sleeves. She hasn't been seen sleeveless in many years. Or gloveless, for that matter.
Her robot eye shoots lasers.